Work-away trips are a fantastic thing: running your business while traveling.  Last year I tried it myself for the very first time by staying in Prague, Czechia for a month.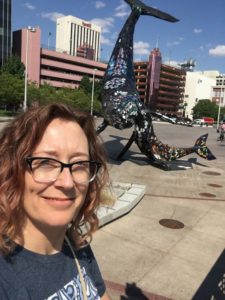 This trip was different from past travel in both its extended duration and for the combination of work and pleasure.  Because it was my first time doing this, I learned an amazing amount about myself, my business and how to travel while working.  That last sentence can also be written as follows: because it was my first time traveling it was painful and not as much fun as I'd hoped.
You see, I didn't think ahead about time zones, access to health care, pilot strikes, cost of changing a portion of a trip, mental recovery time or how living outside of your comfort zone can be challenging even if you are loving it.
So, in an effort to prepare you for work away travel, here are tips from business owners who are successfully taking extended travel without losing momentum in their businesses.
Schedule client calls with care. Due to poor planning on my part, while I was in Prague I found myself taking client calls at 8 pm and that was after working several hours during the normal day. As a result, I missed out on some fun things that others in my group got to do.Jane Garee with Showstopping Sales says: "I set up my Google calendar with both my home-based time zone and the time zone I will be working from on the trip about a month in advance. These can go side by side in Google so you see both time zones simultaneously. I also put both time zones on my Apple Watch (it's very cool and both time zones can go on the same screen). I find that being able to quickly translate time zones in my head goes a long way to keeping stress at bay…  I'm a planner by nature so feeling good about what's on my calendar and knowing I can easily fit in work and playtime makes living and working in a different country much easier."
If you are staying a longer time, pack less than you think you have to. For my Prague trip, I packed everything forgetting that I can do laundry in the apartment.Susan O'Brien, Owner of EcoLux Interiors says: "Coordinate every piece so that it goes with several other pieces and base it all on lightweight, and for the weather, you are heading into.  You need half of what you think you need, and a couple of scarves make a nothing outfit quite fun!"
Book your flights way ahead of time if available and understand the fine print before buying a lower-priced ticket.Louise Crooks of Keys to Clarity Coaching says: "I book my flights to really far off destinations quite well in advance. Sometimes 9mths in advance. It means my tickets can be 35% cheaper than most folks will end up paying. Great way to save on a budget."
Keep your home in mind while you are away.Pam Ivey of Adventurous Life says: "I line up my petsitter right away to ensure the fur babies are looked after. She also picks up my mail, so that's taken care of too. I ensure lawn maintenance/snow removal is arranged so it's not a dead giveaway that I'm not home, and I've made sure everyone I want to keep in contact with at home (mom, sister, friend) has Skype at the ready and a tutorial given if needed."  Another option is WhatsApp.  It's an a
Keep a copy of any important documents in the cloud somewhere. This includes business and personal documents along with copies of your passport.  Pam Ivey of Adventurous Life and Donna Kozik of Write a Book in a Weekend both agree with this.
Don't skimp on a carrying bag and accessories for your daily commute to the "office." Finding a co-working space is the best way to be sure you keep up with your work.Pam Ivey of Adventurous Life says: "Make sure you have a good bag, whether it's a shoulder bag or backpack to carry your laptop back and forth to the office. (I love my backpack because it keeps my hands free.) Don't forget adapters! And adapters with built-in USB ports are awesome.