You know what the WORST thing about mountain climbing is? They leave the hardest stuff for the end. Think of it. You're exhausted, dragging your pack with you, and isn't that last quarter mile just the hardest to haul?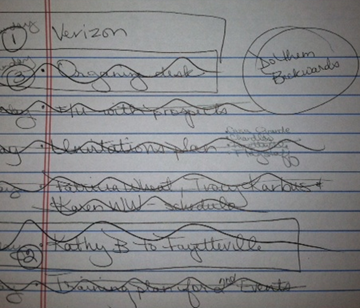 I thought of this as I was planning my day and chose just four things to tackle (it was the weekend). I wrote down the items, then prioritized them like this:
Pay cell phone bill

Add name to sponsors on web site

Schedule my week

Clear off my desk
It was midnight when I wrote this out, so I was feeling a little punchy, and my mental filters were down. The thought ran through my head to "Do them backwards." I thought – ok little voice, you got it. I wrote down "do them backwards" on my list, and then went to bed.
I woke up the next day, and took my advice, just to see what would happen. Instead of doing the quick things first, I took on the bigger jobs first, when I was feeling refreshed and focused, and saved the easier tasks for the end.
And surprise, surprise- it was so much easier. Now if they'd just put the mountain peaks closer to the ground, we'd be all set!