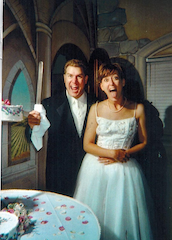 When my husband Adam and I were in the early stages of planning our wedding, we observed several couples who were stressed-out and complaining about planning their weddings. I was puzzled. I mean, you get to taste cake, play with flowers, and try on pretty dresses. What's not to love?
In a rare case of foresight, we decided that we were going to have fun during the eight months of planning our wedding. If it stopped being fun, we either needed to adjust our attitudes, or ditch the deposits and go to Las Vegas for a quickie wedding.
So we focused on making it fun. We kept an eye on our attitudes. We didn't let other people's opinions swat us from our vision of our perfect day. We (or at least I) really didn't want to get married by Elvis in the Hunka Burnin' Love Chapel.
Guess what? It was a blast. All eight months of it.
But think of it – 240 days of planning for one day of fun. 99.583% of that time we were on the journey to the wedding, rather than at the destination. If we had let ourselves get totally stressed out for that 99.583% of time, we might never have even gotten to the wedding!
So my question to you is – do you treat your business this way?
Do you consciously decide to enjoy it on a daily basis, consider your opinions and priorities first, and create a plan of attack that is fun?
Too often, this is not the case. We struggle to do things the way someone else says we should, allowing ourselves to believe that if we suffer today, we'll see a payoff later, and that we just need to work harder.
Don't do it! You know what the business owner's version of the Elvis Chapel is? Having to get a job!