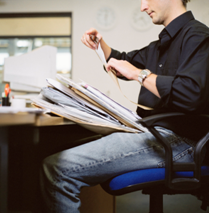 So last week, I talked about that feeling of having One Foot On the Gas, and One On the Brake, and I promised this week to include some ideas on how to survive that gear-grinding feeling.
It boils down to this: focus on the things you have control over. And the things you have control over are your ACTIVITIES, not your results.
You have no control over the state of the country's economy, or someone saying no to you, or whether or not people return your phone calls. What you DO have control over are things like MAKING phone calls, WRITING articles, SENDING emails, ASKING for business, ATTENDING networking functions. All of these things are 100% within your control.
I'm going to give you a simple 1-2-3 to make your business activities more effective, easy and profitable.
1.  Determine which activities (the ones you have 100% control over) lead to the results you want.
Look over your newest 10 clients, and determine which activities led them to your door. Do you see a trend between making phone calls and receiving referrals? Sending an e-newsletter and making sales?
2.  Engage in these activities consistently.
Decide how many times you'll engage in these activities, and do them consistently. For instance, when I was in real estate, my activities were: 1 mailing to my database a month, 1 client lunch per week, 5 phones calls per day, and 3 note cards per day. This consistent activity led me to triple my business in one year.
3.  Ignore the stuff that is beyond your control.
It's almost like you have to put blinders on to block out the loud, insistent negativity and fear that comes with all of the things that are beyond your control. But do it you must if you don't want to go crazy!
And guess what happens when you decide, engage, and ignore?
You feel more relaxed, knowing you're investing in the highest return on investment activities
You have more time in your day
New clients seems to come out of nowhere
Sounds too easy, right? Well, it tripled my real estate income one year, so easy or not – it works!
---
If the above concepts seem like good ideas, but you just can't wrap your head around how to get them integrated into your business on a consistent basis, please contact me, and we can talk about how I might be able to help. I offer short-term (often just one session) business training that lets my clients establish simple action plans that yield consistent results.