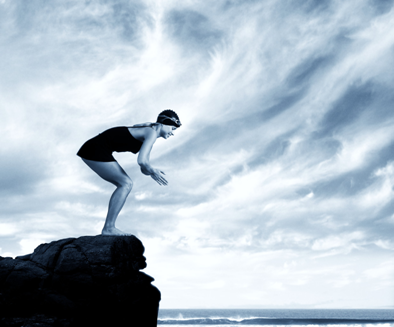 I've been a bit tense lately. Four events in two weeks, and working on a training program to launch speed networking nationally at the beginning of next year. A lot of what I'm working on amounts to invention – brand new stuff that I have no experience with.
I said to my husband Adam, "I feel like I'm about to jump off a cliff".
To which he responded, "Throw down some sand."
Thrown by the seeming non-sequitur, I articulately replied, "Huh?"
"Like in Indiana Jones," he said. "When he sees that great gaping chasm and then steps off to find it was an optical illusion, and a path was there all along. Throw down some sand and you'll see it's not a cliff at all."
As you can imagine, that stopped me in my tracks.
I love this mental picture, but am struggling a bit to complete it.
If the chasm is my fear of the unknown, and the path that is the optical illusion represents the unseen solutions that are available to me, but what about the sand? What does the sand represent?
I'd love to hear your ideas!