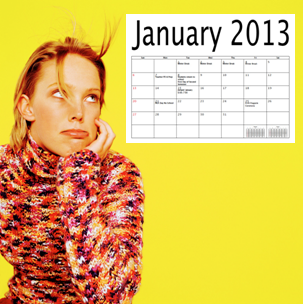 Is the month of January historically a slow month for you? If you answered "yes", then you're in luck this year! Why? Because you're reading this article!
The truth is that you are creating your January results right now. Consistent actions you take today will yield results 60-90 days from now. So November is the month to dig in, rather than to let your focus and habits take a holiday.
Here are five simple strategies to make your new year successful from the start:
Review this year's goals. Maybe there is something on your list that you forgot about, and can use to re-energize the rest of your year. Or perhaps you'll see that you've achieved more than you thought – another great motivator!
Create a three month strategic plan of consistent action. What can you do on a daily basis to make January strong? Write down the plan, and break it into daily action steps.
Take care of yourself! In the season of over-indulgence, take time for yourself to relax and rejuvenate so that when the new year arrives, you're refreshed and raring to go!
Outline your goals for the upcoming year. Looking ahead can provide perspective on the best actions to take for the remainder of the current year.
Hire a coach. If you don't have systems, and feel stagnant and totally overwhelmed, hire someone to get you on track. I promise you that it is less expensive to hire a coach than it is to flounder through the end of the year, and to waste the start of the new one.
If you don't have a resource for #5, schedule a complimentary Strategy Session with me. You'll get some clarity and we'll see if and how I can help you. It's free, so what have you got to lose?
To take me up on this offer, follow this link and fill out my brief questionnaire: http://marycravets.com/bigimpact/