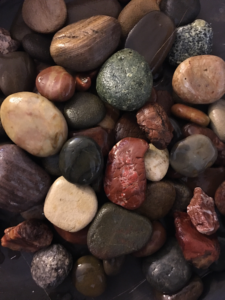 On the first day of the year, I walked the beach at my beloved Morro Bay. As I watched the pebbles wash ashore – every one of them gorgeous and unique – I was struck with an inspiration.
Wouldn't it be amazing to tangibly capture and share this moment? A moment of calm and inspiration, when everything seems precious, full of possibility and excitement.
So I started gathering these New Year's Day inspiration pebbles.
I bent and picked up pebble after pebble. Sighing over the smoothness of one, the perfect roundness of another and the gorgeous coloring of yet another.
As I filled my pockets, I thought of these pebbles sitting on the desks of my fellow entrepreneurs. Inspiring them to make this year brilliant and unique. I gathered more and thought of the connection I would create with people across the country. I gathered more and more, my mind racing… with the possibilities of inspiring others, inspiring myself, and carrying this inspiration throughout the year.
Then I got them home and I noticed how dull and ordinary they looked. Just rocks, not pebbles of inspiration.
Doubts crept in and I started thinking, "Am I crazy? These aren't inspiring. They're just rocks. And kind of boring rocks at that. People are going to think I am so weird. No one's going to understand this. No one's going to want a dull rock. And how am I going to ship these? What was I thinking?"
This is exactly how entrepreneurs crush their own brilliant ideas: through the ordinary grind of work, through lack of confidence, through letting "how" get in the way.
Don't shrink away from being your brilliant, weird self. You will inspire others to let their own authentic, "weird" stuff out into the world.
Inspiration fades, so prepare for it. When you're inspired, put together a plan of action so you can keep moving forward even when your ideas shift from brilliant to ordinary.
If you're not sure how to implement your inspiration, ask for help. Surround yourself with people who are smart, encouraging and wonderfully weird like you so when you need help, it's right there waiting for you.
Happy New Year. Email me your mailing address to receive your own New Year's Day pebble of inspiration.