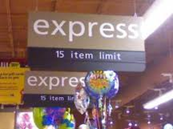 I was at the grocery store the other day, and was feeling really rushed. I had just picked up the food for that evening's event, and felt like I was cutting it close with timing.
After estimating the number of items in my cart, I dashed to the "15 Items or Less" checkout stand. With only one person ahead of me, and no one looking like they were going to file in behind, I figured this was the best way to get out of there in a hurry.
As I unloaded my cart, a man joined the line behind me. He had a hand basket with just two items in it. He surveyed my load of groceries, and assumed an expression of supreme exasperation.
So what did I do? I treated him like I treat everyone. I smiled and said hello.
He sighed loudly, pointedly looked at the sign that indicated the grocery items limit, and under his breath muttered, "Hmm… wish some people knew how to count…"
Oh boy. I hate conflict, but for some reason, this situation immediately struck me as comical! I still don't know what was going on in my head.
I looked at him, and then looked at my items (which up until then I still hadn't counted), and said, "I didn't count, did I?" I counted up my items and came up with 17. Whoops! Call the grocery police!
Smiling, I then said to the man, "I'm 2 items over, would you like to go ahead of me?"
And here's the punch line… he said NO!
At that point, it took every ounce of my restraint not to laugh out loud. Lest you feel sorry for this man, understand that I felt like laughing, not just because of the situation at hand, but also because I wanted to laugh at myself. It was like looking in a mirror.
The situation fully embodied this phrase that a mentor of mine asked me over and over: "Do you want to be right, or do you want to have peace?"
I can think of so many times in my life when I was literally handed a way out of a frustrating situation, but rather than allowing myself to experience relief, I chose a stance of self-righteousness. But I was RIGHT, damn it!!!
Can you relate?
This poor guy, I truly meant him no harm. He had no idea what was in my heart that day, and he has no idea how, in an odd way, he uplifted me. I left the store that day with my shopping cart, ran a few steps with it, and then rode it like a scooter to my car, thinking, "I CHOOSE PEACE!"