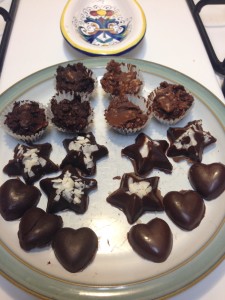 I recently made a re-commitment to eating healthy, and am exploring ways to make this commitment delicious (rather than torturous). Imagine my delight when I discovered recipes for healthy chocolate online!
But I'll admit, I was skeptical. I'm a chocolate snob. And chocolate made from superfoods? Well, I was concerned they would taste like grass.
After experimenting, I came up with a simply delicious recipe*. The online recipes I found didn't address how to deal with common problems (like the honey completely settling to the bottom), so I've included best-of-the-best instructions that will help you avoid these pitfalls.
Side note: if you are like me, and are on a diet that restricts carbs, you are going to be ecstatic about this next tidbit. Depending on how large you make the chocolates, they only have about 2-4 carbs each. While I've been eating and testing these chocolates (often up to 10 a day), my ketone levels have actually gone UP. If you don't know what that means, here's the bottom line: I seem to burn fat better when I eat the chocolates. Totally serious.**
A Note About the Recipe
The recipe below is for a small batch of chocolates, because you may want to do some practice runs to get it the hang of it. The ingredients are not cheap, so making small batches will save you money and headaches. Once you've got it, double or triple the recipe and go crazy!
RECIPE: Super Chocolates
Ingredients
1/3 cup Coconut Oil (I prefer unrefined, like at Trader Joe's)
1/4 cup raw cacao powder (I used Hershey's cocoa powder in one batch and it worked fine and tasted great, but cacao gives you the best nutritional properties)
1/4 teaspoon vanilla
Pinch salt*** (optional)
2-3 teaspoons honey (to taste)
Instructions
Step 1. Put coconut oil, cacao, vanilla and salt into a stove top-safe pan or bowl. Do NOT add the honey yet!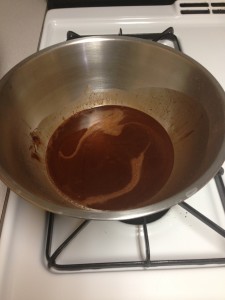 Step 2. Over very very low heat, continuously mix with spoon or spatula. Remove from heat as soon as the coconut oil is melted, then continue stirring until the mixture is free of lumps and thoroughly mixed. The mixture will be a very runny liquid at this point.
–> For a milder, creamier chocolate (similar to milk chocolate), skip Step 3 and go straight to Step 4.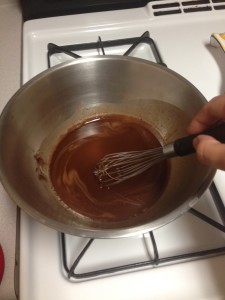 Step 3. For a darker chocolate, return the mixture to very very low heat, stirring constantly with a whisk until it is lightly bubbling. Continue to whisk gently (don't whisk like you're beating an egg!) for 2 minutes. Stick to 2 minutes: if you go longer, you'll end up with a much more bitter chocolate. Remove from heat.
Step 4. Put the whole container of the mixture into the fridge until you see about 1 inch of the chocolate starting to solidify around the edges of the bowl. For the milder chocolate, this will be approx. 10-15 minutes, for the darker chocolate, 45-60 minutes.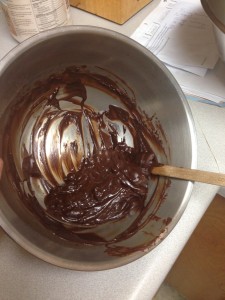 Step 5. Remove mixture from the fridge and scrape the hardening chocolate from the edges and mix with the runnier stuff in the middle. What you're working to get is for the entire mixture to be the consistency of a good, thick hot fudge. This may take a few trips back and forth into the fridge and onto the stove top, but it's worth it. Getting to this fudgy consistency is the key to keeping the honey from completely separating.
Step 6. Add the honey, and taste it. Add more if you like!
Step 7. Spoon chocolate into candy molds, then pop in the freezer. In 15 minutes, they're ready to eat!
Once you get the hang of this, try adding coconut, almonds, dried fruit. Have fun with it!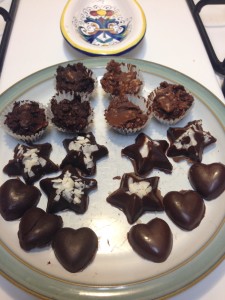 Post questions and comments and I'm happy to help!
* To those of you who know me well, please stop laughing. I know I haven't cooked for more than a decade, but… well, just stop laughing, ok?
** I'm sure if I ate more than 10 or so per day, this probably would not be the case, so I don't recommend using the chocolates as a basis for your diet. Just a yummy supplement.
*** The salt does not dissolve in the mixture, but is fairly well distributed. If you include salt, you'll occasionally get a piece that is a little saltier than the others. Personally, I like that, but feel free to just omit the salt if you prefer.