Have you ever been visited by this sneaky saboteur? The "it's all been done" syndrome?
I had a case of it last week as I wracked my brain for a topic to write about. Every time I came up with an idea, I immediately told myself, "yeah, but that's been done before." This kept me spinning for days.
After giving up, I was reminded of a moment of profound change I experienced many years ago. I was on a teleclass on professional speaking taught by the indomitable Les Brown. I chose to be on the call because I LOVE public speaking, but I always held myself back because I couldn't come up with a 100% unique topic to speak on. I was limiting myself with the belief that "it's all been done."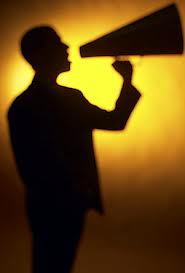 Giving voice to my fears, Les acknowledged that there are very few speakers with wholly original ideas. But then he said, "You can't let that stop you. There are people out there who can only hear your voice."
And I knew exactly what he meant. I'd hear a concept from five different people, but only fully absorb it from the one person whose "voice" – energy, experience, persona, attitude, philosophy – I truly connected with.
I work with business owners all the time who hide their talents, insights, and services because of this feeling of "it's been done" or "everyone else is doing the same thing." I'm here to tell you that that attitude is a saboteur, and it can become a cop out.
Don't let this sabotage you, and do not use it as an excuse not to pursue your life's work. There are people out there who are listening for your voice. It's time to speak up!