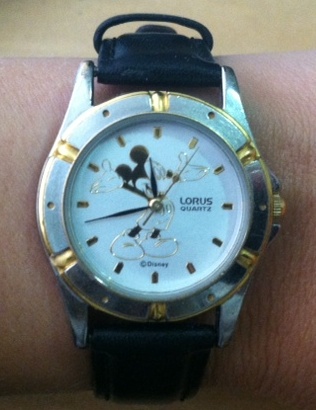 About 15 years ago, I got it in my head that I needed a new watch. I knew EXACTLY what I wanted. It needed to be silver and gold, so that it matched everything. It needed to have numbers around the dial, rather than just tic marks. It needed to have the date. So I started shopping.
I window-shopped. I went to malls. I went to jewelry stores. If I'd known how to shop online back then, I would have done that. Every chance I got, I was looking for this perfect watch. I kept looking and looking and looking. I searched for two years.
TWO YEARS?! Ok, just writing about it makes me shudder to think of the time I spent (wasted) on shopping for a watch. Want to know what brought an end to the madness? I'll tell you.
I was in a department store, in the watch section, of course, and I saw a Mickey Mouse watch. The face was gold and silver, and I laughed. Something clicked in my head, and my inner voice said, "You know what time it is? Maybe it's time you stopped taking this all so seriously."
I bought the watch on the spot, and still have it today. It's the only one I wear.
It reminds me to stop obsessing, to laugh, to look in different direction for solutions, and that time is precious.