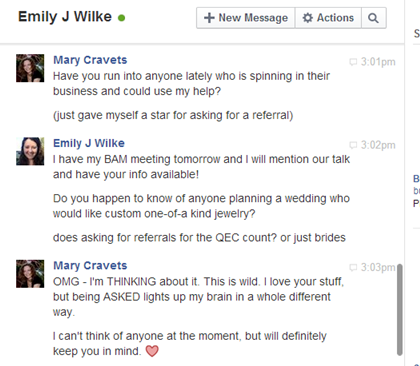 I was just on Facebook, messaging a client of mine who is making earrings for me. Emily's got an awesome program where she makes custom earrings every quarter for you based on your style preferences. And it's SO freaking affordable. Check it out.
So back to the topic (talk about getting distracted by bright shiny objects…) – we finished up the details about the jewelry, and both mentioned that we were working on our Minimum Marketing Plans (what's that?), then the exchange continued like this:
Me: Have you run into anyone lately who is spinning in their business and could use my help?
Me: (just gave myself a star for asking for a referral!)
Emily: I have my Business Among Moms meeting tomorrow and I will mention our talk and have your info available!
Emily: Do you happen to know of anyone planning a wedding who would like custom one-of-a kind jewelry?
Me: OMG – I'm THINKING about it. This is wild. I love your stuff, but being ASKED lights up my brain in a whole different way.
Me: I can't think of anyone at the moment, but will definitely keep you in mind.
Did you notice what happened? In the middle of a casual conversation, I realized I could check something off my marketing plan by asking for a referral. And Emily responded with a generous offer to promote me at her next networking meeting. Which made me feel great and now she's getting top billing on my blog!
The key is recognizing opportunities to ask and asking without an agenda of how your request will be fulfilled.
Now it's your turn. Ask for a referral right here on my blog. And look at what other people have asked for – maybe you can help!