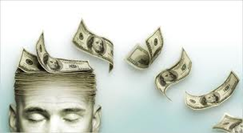 I have a really simple tip for the week. It's such a little thing that I almost decided not to share it. But I'm noticing that it is precisely these little things –  the tiny habits & fears – that get overlooked, and they keep us stuck.
During the Clarity Sessions I do for prospective clients, I always ask about income goals. They invariably answer that they'd like to make a six figure income. Or $50,000 per year. Or $250,000 per year.
Then I ask about their current income. And they answer $2,000 per month. Or $1,500 per month. Or $4,000 per month.
Do you see the disconnect? The goal is a yearly number, and the current income is a monthly one.
So here is the tip of the week, and it is ridiculously simple: Think of your current income and your goal income in the same time frames. Get your thinking in alignment, and you make it easier for the money to follow.