Are you ready to build a successful, sustainable business with a consistent stream of clients?
Are you working hard… but need to work smarter, so you can stop spinning your wheels, and get MORE results?

Do you enjoy a challenge..

. but you want getting new clients to be easier?
Are you trying lots of marketing tactics… but you're not seeing any results?
If this is you, imagine in 90 days creating your own system, implementing it and creating a steady stream of clients.

---
The first step predictable results is learning client generation strategies and putting them into place.
The foundation to building a thriving business is ALL about mastering client generation strategies. Once you have this foundation in place, then you can begin to leverage it, accelerate it and simplify it, making you work smarter, not harder.
But, there's a catch.
You have to build your foundation with proven systems and guidance from someone who's "been there, done that" so you can implement right away to get results, fast!

Ready. Fire. Aim.
That's why I created:

Here's how "90 Days to Client Generation Mastery" works:
First we create your highly leveraged, personalized marketing plan designed to get you to clients and cash fast. Because look, let's be honest, when you sign up for things, you want results fast. No waiting around while you "perfect" your ideal client profile. Results, right away.
Then we take that plan and amplify it by zeroing in on exactly what your dream clients want so when they hear what you have to offer, they say, "I WANT that!"
Next, we get to work on creating a solid framework to build our business on so you're making the right choices to build YOUR dream business fast. You get total clarity around what you WANT so you build a business that you LOVE.
And we top it all off with making sure you have MAD sales skills… so all those prospects turn into happy clients who pay you what you're worth. You'll be making a bigger difference, and making bigger money. Awesome.
"I more than doubled my income right away working with Mary. Plus, she kept me on track so I could complete a product I'd wanted to do for years, and establishing a recurring income program that has provided some financial stability. My business just keeps growing and I'm loving it."
Rachel C Vane – RC Vane Print + Web Design
CAll to action?
---
Ready? Here's what you'll get:
[box]
6 Core Training Modules (six months access)
Everything you need to know in step-by-step instructions with live trainings, audios and templates. Multi-media learning so you can learn everything faster! ($2,500 Value)
24 Weekly Skill Mastery Sessions
Get all of your questions answered LIVE so you can implement as fast as you learn. ($6,5000 Value)
6 Get it Done Days
On-call coaching so we can tackle those BIG projects… together! ($3,000 Value)
Access to 24/7 Collaboration (six months access)
Get access to our private Facebook Group for 24/7 continual collaboration, coaching, and accountability. (PRICELESS)
Bonus #1: Speaking for Profit Made Simple
Get known as an authority and get clients faster through speaking! ($497 Value)
Bonus #2: Launch Your Big Ticket Offer Intensive
In one afternoon, learn how to create, promote and sell your Big Ticket Offer – the FASTEST way to significantly increase your income. ($497 Value)
Extra Bonus (First 10 only): Private Rapid Profits Coaching with Mary
I roll up my sleeves and immediately find at least 3 opportunities for you to bring in more clients and more cash – fast! ($497 Value)
A $10,000+ Value
Special Limited Time Offer Rate:
$1,497 single payment or $347 x 6-pay option
[/box]
The 6 Modules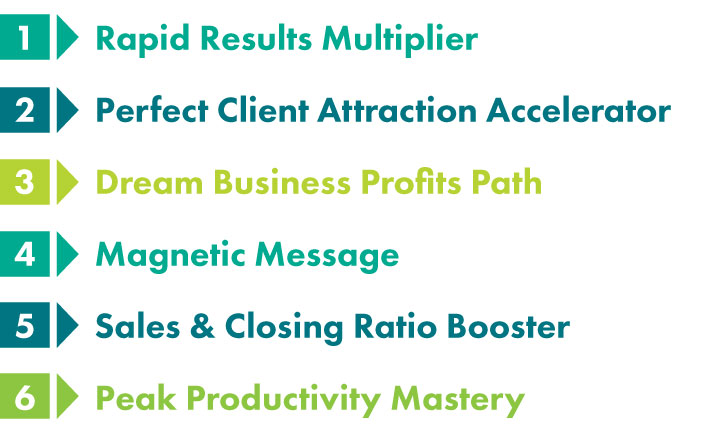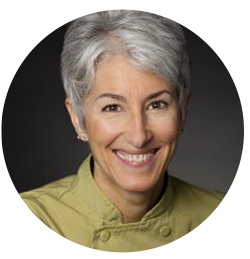 In 2 Weeks: A New Client, Sponsorship & Speaking Gigs
"Even though I'm a published author and featured regularly on television, my business was stagnant and I was incredibly frustrated. Within 2 weeks of working with Mary I got a new client, a sponsor for my TV spots and several speaking engagements."
Nancy Banner, The Holistic Kitchen
You may be thinking, "What's this going to cost me?"
If you follow my proven system, you'd only have to get 1 new client a month to justify this investment. But, you are going to get more new high-end clients, consistently for years to come!
This easily justifies you making this investment to kickbutt now for 90 days so you can work smarter and make a bigger impact.
So given that, it would be ridiculous for me to go into a long rant about the value of you have access to here.
Imagine consistent, new high-end clients every month. Is THAT worth it? You can't lose.
Plus, I'm even giving this to you in an easy installment plan.
Are you ready to FINALLY start seeing some REAL money in your business, consistently?
I thought so.
Click here to claim your spot.
---
100% Satisfaction Guarantee

Join the 90-Day Client Generation Mastery Program today and
test the program for a full 30 days from the first training day in November. If you're not completely satisfied, you'll receive a full refund and the 1/3 of the course you'll have received by then is yours to keep!
---

3 Hour Workday
"Mary helped me get to a 3 hour work day or less! Now that my business is pretty much running itself, and because I'm an overachiever, I'm using my free time to jump into business with my husband!"
Monica Nainzstein, SpanishOneTranslations